The rave7

™

Business Solution

It is a bit of a challenge to define or describe

rave7™

in 10 words or less, or within the framework of traditional internet-based solutions like CRM, Marketing / Sales Automation, Multi-Channel Marketing (MCM), eCommerce, Help Desk or CMS (Content Management) . Each of these brings to mind a more or less standard set of features and functions, with a fairly clearly defined value proposition within the scope of their specialty.

rave7™

is different - we think you will agree that it is a "good" different! It integrates all of the solutions mentioned above; it's a series of robust modules that work together to deliver a value proposition for you that is greater than the sum of its individual parts. And it does this without requiring you to go to the trouble and expense of cobbling together individual solutions and somehow linking independent databases!

That's why we call rave7™ a

business solution

, rather than a CRM, CMS, Help Desk or Marketing Automation solution. It integrates and automates every phase of communication, relationship building, transacting, and ongoing support with your key stakeholders. And rave7

™

does it securely and elegantly, leveraging a shared core of contact, content and communication management resources to support the full relationship life cycle.

That's

The rave7™

difference!

Check out the links at the left for more detail.
rave7™ Overview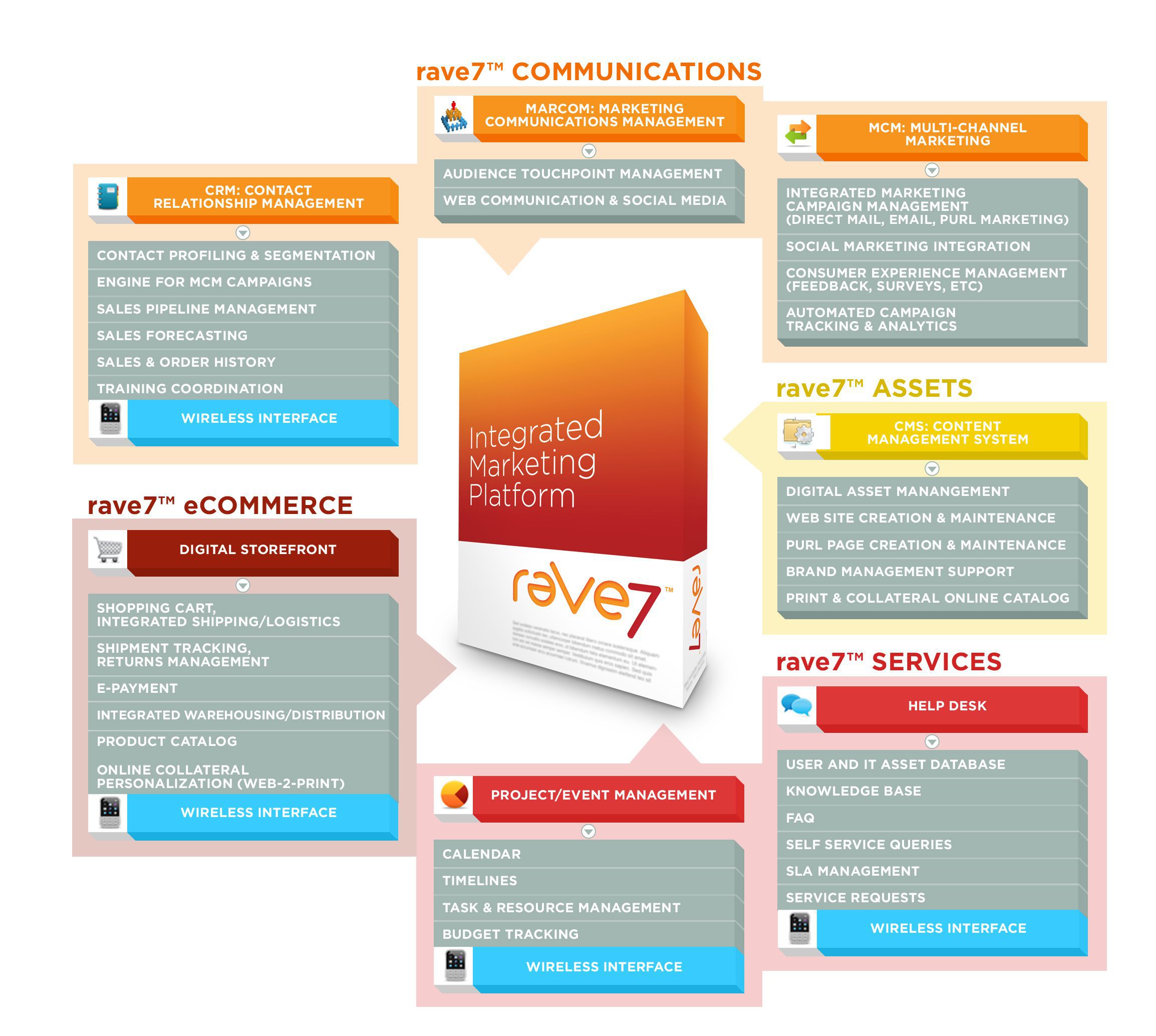 Here's How The rave7

™

Business Soltuion Works For You

24 x 7 "Always-on" Availability
100% web-based "SaaS" (software-as-a-Service) model, hosted in a fully secure commercial hosting facility with redundant power sources and internet connections. It's accessible from any web-enabled computer anywhere in the world by your customers, business partners and your own staff. No software on your servers to support or maintain, nothing to go obsolete. Just 24 x 7 platform availability and return-on-investment.

One Integrated Platform, Many Modules

Content management (CMS)
, c

ontact and relationship management (CRM)

, Multi-Channel

Marketing (MCM)

,

Help Desk and customer support

, online catalogs, o

rder processing and transaction management

, c

alendar/training management

, p
roject management -

rave7™

delivers it all!


Flexibility

rave7

™

was built from the ground up with adaptability to your business requirements in mind. We challenge you to find a more customizable platform. Anywhere! Forms, table layouts, database structure - all 100% customizable. From your current needs to whatever you may need down the road ... rave7

™

provides a secure growth path and protects your investment.

Fully Featured
Your communications, sales, marketing, ecommerce and customer service staff can share knowledge, documents, product information - any type of online resource - with anyone, anywhere in real time. Multi-channel communication tools, contact profiles, asset management, order processing, service call management ... all available whenever you need them.


Affordable
rave7™

has a pricing model that is competitive with any hosted CRM, CMS, Help Desk or Marketing Automation solution available ... except that rave7

™

delivers far more functionality and value for the price!
Contact us

to evaluate the value that rave7

™

can deliver for you.