How Can

rave7™ LCM Customer Service

Help You?
The

rave7™ LCM Customer Service / Help Desk

module can serve either as a fully featured standalone customer service automation platform or as a powerful ongoing service component of a broader

Life Cycle Management

solution. As a standalone solution it offers all of the service incident ticketing, escalation and resolution and the IT asset management functionality of the market leaders. As an

LCM Suite

component it delivers benchmark-setting ongoing customer relationship, communication and satisfaction benefits that most CRM, Marketing Automation and eCommerce packages simply cannot match - especially at anything approaching

rave7™ LCM

investment level.
Either way,

rave7™ LCM Customer Service / Help Desk

can drive value for you in the following business applications, among others.
Service Agreement Management / Customer Satisfaction
rave7™ LCM Customer Service / Help Desk

automates management of and conformance to your service agreement commitments with your customers, enabling you to quickly resolve issues and maintain high customer satisfaction ratings - which drives customer retention.
rave7™ Help Desk

supports all service industry standard metrics and functions:
• user definable service response KPIs (key performance indicators)
• days / hours / minutes, elapsed time, same day / next day / specific time
• unlimited, pay as you go, draw against pre-established

time or call banks
• automatic case priority assignment

per SLA terms, with manual override
• automatic agent assignment and electronic case / ticket distribution
• automatic case / ticket tracking and trigger-based escalation
• full CRM-based user name and password Help Desk access control
• automatic update of user CRM records with incident and resolution data
As incident calls are received and Help Desk staff access customer files, any existing service agreements are immediately displayed to ensure timely informed service response:

<!--[if !vml]--><!--[endif]-->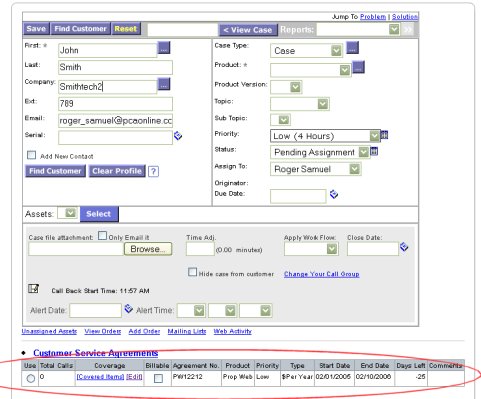 IT Asset Management
rave7™ Help Desk IT Asset Management extends the benefits of

The LCM (Life Cycle Management) Suite

inside the enterprise, from both the perspective of IT user support and that of physical asset management.
• all IT asset database fields are customizable; track any required asset data
• add assets allocated directly to any user at any time
• add unassigned assets, assign them later to specific users
• reassign assets from one user to another
• view all assets allocated to a user; select from a drop-down menu for simple
initiation of an incident ticket
• view all cases that relate to any given asset
• manage IT user incident ticket response scheduling, escalation, resolution
• manage IT asset warranties / maintenance agreements
• manage IT asset life cycles & upgrade schedules
• manage IT asset inventory valuation
• manage software licenses, versions and upgrades
The IT Asset Management Process
Multi-step process for setting up and managing IT assets in rave7™ Help Desk:
1) Networked assets scanner that integrates with the Active Directory. The Asset Scanner will scan networked computers and collect all defined data on every asset:


<!--[if !vml]--><!--[endif]-->

2) List of all assets scanned, available through the "Assets" link in the Help Desk interface:

<!--[if !vml]--><!--[endif]-->

3) Display individual hardware asset configuration by clicking on any computer icon: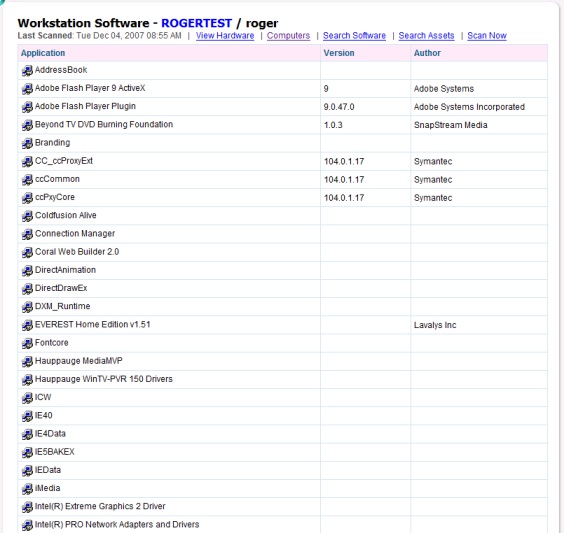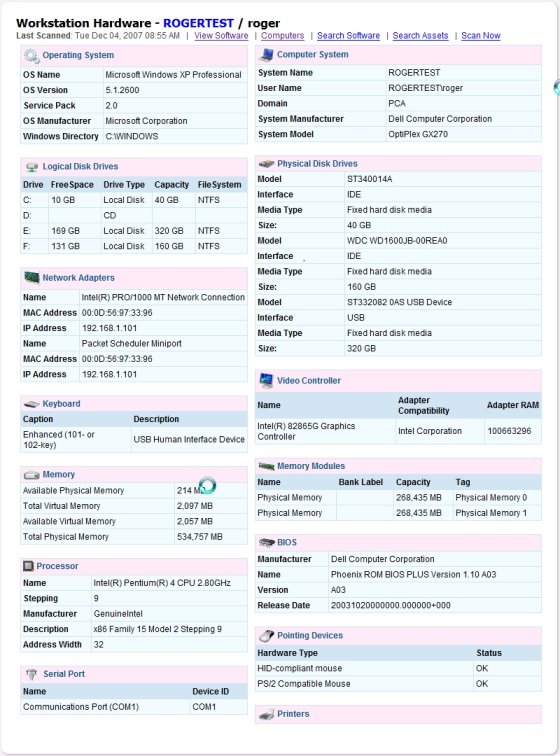 <!--[if !vml]--><!--[endif]-->

4) View all software installed on any hardware asset using the "View Software" link:
User Satisfaction Survey
The same

rave7™ LCM

CMS-based online form creation capability that enables customer satisfaction or any other type of survey also enables internal IT user satisfaction surveys for the Help Desk. Surveys can be designed in any format with any data input fields required, and the results are stored in the rave7™ database from which reports can be generated.