rave7™

Online Catalog & Digital Storefront
rave7™

LCM
eCommerce - More Than Just An Online Store!
•

Life Cycle Management eCommerce - extends the shopping experience well beyond the actual purchase, with ongoing interactive customer communications and online support
•
The

rave7™ Digital Storefront

module is seamlessly integrated with the

CMS

(content management) module for full catalog content management, the

CRM

(contact relationship manager) engine for contact profiling, catalog access control and personalized communications, and the

Help Desk

for the ultimate in customer service and satisfaction
•

Catalogs can be public to generate revenue through a 24 x 7 "lights on" store, or internal / subscription only (e.g. members only shopping, print / collateral management for internal staff etc.)
• Restricted access catalogs are controlled through user name / passwords from the CRM database.
• Order stock products from inventory or generate custom product orders.
• User Admin definable option of billing on account through the CRM or secure online payment (Paypal, major credit cards)
• Link to Logistics Management: warehousing, distribution, kitting
•
Shopping activity exported to

CRM

for customer, product and revenue reporting
Multiple Storefront Options: Designed With Your Needs In Mind

Digital Storefront Pro

Store: shopping cart, e-payments, user access control, warehousing, pick & pack, kitting

Product catalog: product manager, order processing, inventory control

Web2Print: online personalization of collateral / printed items; order transfer to production

Digital Storefront Elite: Storefront Pro, plus

Returns management, coupons / vouchers, product specials / promos, auto-consolidation, label generation

Digital Storefront Elite+: incl. Logistics Management

Logistics

:

shipping management, automated rate calculation, carrier comparison, returns shipping management

Products can be managed on an individual basis or by multiple levels of categories and sub-categories. The

CMS

engine allows simultaneous updating of whole product groups with similar graphical or content block components ("digital assets") just by updating the asset once in the

digital asset manager

. All products with that asset component will automatically be updated.

Order / Shopping Cart Management

rave7™ Digital Storefront

makes it easy to manage shopper accounts and order history. All orders placed through the

rave7™ shopping cart

are immediately uploaded into the customer's profile in the

CRM database

; customers and Administrators can then access their accounts online to view order histories, download copies of invoices etc. Repeat orders can also be created directly from within customers' accounts, avoiding the shopping cart process, and email purchase confirmations can be automatically generated for shoppers' convenience.



rave7™ Digital Storefront

automatically tracks dropped or abandoned shopping carts and reports on them through the Admin Dashboard. Using the integrated

rave7™ M

ulti-Channel Communications

engine, the system can easily be configured by the Administrator to automatically issue immediate or timed communications to shoppers who abandon their carts as long as the contact coordinates are available; this is one example of the advantages of a fully integrated

Life Cycle Management Suite

like rave7™

.





rave7™'s LCM

integration the Digital Storefront with the

CMS (content management)

engine also enables the addition of a shopping cart to any page of a

rave7™

-built and hosted web site by simply inserting a standard functional plugin on the page from the

rave7™

plugin library.

rave7™ Digital Storefronts

also include standard product and meta-data search options that simplfy the shopping experience for shoppers by enabling searches using drop down menus and any number of user-defined search criteria.



Flexible Catalog Access: Public or Secure


All products in a rave7™ Digital Storefront

catalog

are maintained through the internal product database (

digital asset manager

) that can be managed by anyone with Admin access authority.




Flexible Catalog Product Views

All

rave7™ Digital Storefront

catalog items can be maintained (add, edit, delete) by anyone with appropriate Admin-level authorization through the integrated CMS and digital asset manager. A choice of catalog views can be selected by rave7™ users, depending on the product profiles and user preferences:

Descriptive View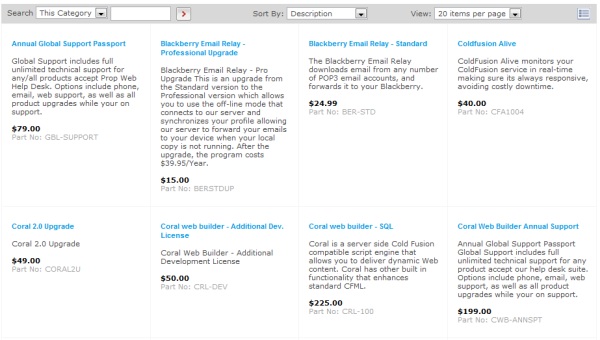 Single Item Per Line View




Product Image View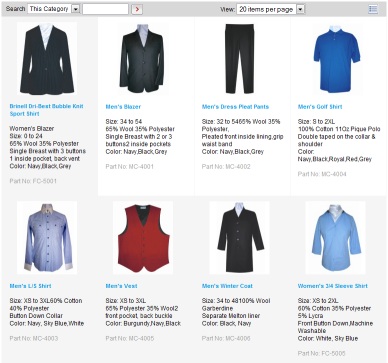 Administrative / Maintenance View
Checkout

The

rave7™ Digital Storefront

shopping cart is integrated with several payment processors to simply the payment process for shoppers; they can choose to pay either through their PayPal account or using a major credit card, and upon checkout cart details are submitted to the selected payment processor. If the Storefront has been linked to the CRM database, shoppers can have access to their complete order history.

To ensure security, card numbers are not stored in rave7™; they are maintained with the payment processor. However a part of the number or some other identifying data can be maintained in the CRM database for subscription / member shoppers to validate their identity.

At checkout, shoppers have the opportunity to specify shipping information such as carrier preference and account number or they can default to a pre-defined carrier. Optionally

rave7™ Digital Storefront

users can select one of two more powerful versions of the rave7™ platform with higher levels of

Logistics automatio

n

, delivering additional business benefits from an enhanced feature set (see

rave7™

Storefront Elite

and

rave7™

Storefront Elite+

above

), including real time carrier rate comparisons and preferential carrier rates leveraging a multi-billion dolllar worldwide Logistics spend.